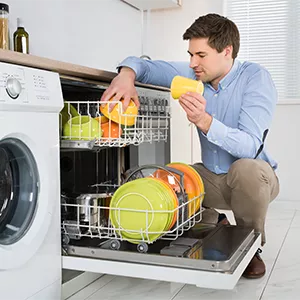 Processes
All my life, I have been interested in processes. At home, I have figured out the "best" way to load the dishwasher to fit the most dishes and get them the cleanest. (My wife isn't convinced that my way is "best", but she is happy as long as I'm doing the dishes.) At work as a software engineer, I often need to determine the most efficient process to accomplish a particular task. That way I can write code for my software that will be fast, robust, and elegant. If a process I create is inefficient or poorly designed, then applications might run too slowly, clients might be confused, or the results of the process might even be incorrect.
Within a company, there can be lots of ways to give and receive feedback. But what is the best process to use for 360 feedback? If the process of giving or receiving feedback is haphazard, then it can waste time, provide inaccurate feedback, or even mean that the feedback is never received at all.
360-degree Feedback Process
Feedback from a 360-degree survey can touch lots of people in the company because it comes from so many different directions. Managers who are already busy might be asked to give feedback to several of their direct reports. If you want to run a 360-degree feedback process in your company, you will need to think through and plan the process carefully so that it is smooth, efficient, and effective.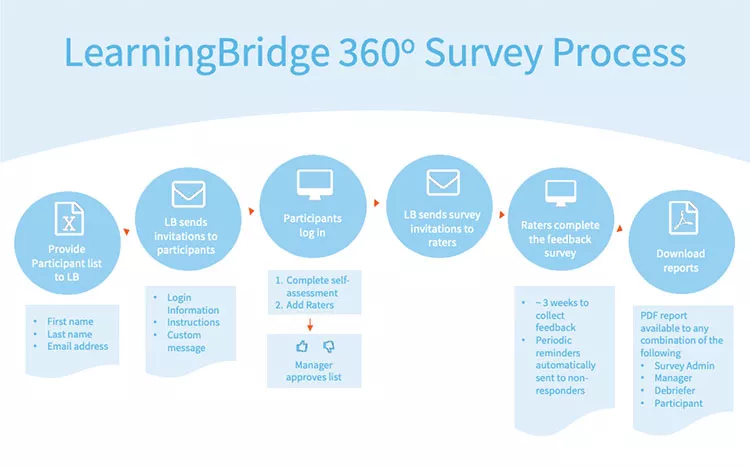 Participants
Who will participate in the 360? 360s are most beneficial for those in supervisory roles since they have an opportunity to get feedback from their direct reports. Additionally, we recommend that participants be self-selected. This gives them more ownership in the development process and a stronger desire to act on the feedback they receive in the process.
You may also want to consider the group size. You might be tempted to limit the group size, as it can feel overwhelming to think of facilitating feedback for a large group. However, there are several tools and options available to help participants process their feedback with minimal help from HR. For example, online webinars can help participants understand the layout of the feedback report and what they should look for in their own individual reports. Participants can process their feedback through guided conversations with their manager, which helps distribute the facilitation workload. Having a larger group of participants can synthesize enthusiasm for the process. Everybody gets on board the feedback train together.
Timeline
In general, you should plan for roughly four weeks to run the survey. This includes time for participants to provide their lists of feedback providers and gathering the feedback itself. You will want to include another 2-3 days to produce and distribute the feedback reports after the survey closes. Often, participants will be attending a class or other development program together. This gives you a hard date to work back from when planning the timeline for the survey.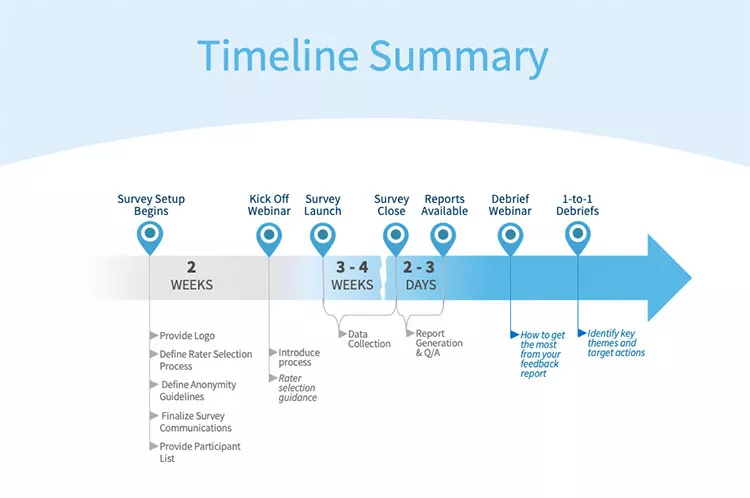 Communications
A vital part of the 360 feedback process is communication—especially with the survey participants. You can think of your communications happening in three phases.
Prior to survey launch


It is important that participants know what is happening prior to the survey launching.

An internal communication can alert them to the work that will be required of them, approximately how long it will take, and when it needs to happen.

If the participants will be attending a training program, for example, they need to clearly understand that pre-work for the program is happening several weeks before the program itself.

During the survey


Participants and their feedback providers need clear instructions about how to complete the process. This can happen in an invitation email when the survey launches. Additionally, both participants and feedback providers will need occasional chaser emails to remind them to complete their portion of the process. We have found that

every 4-5 days is a good frequency for sending these reminders.

As the survey deadline approaches, it may be necessary to send an internal reminder to be sent to key individuals. For example, participants who haven't completed their self-assessment or managers who haven't given their feedback to a participant.

After the survey closes


You will need to communicate with participants to help them get their feedback reports. This is easily accomplished by having the system notify participants directly that their reports are ready.

You might also want to help participants plan for ways to understand the feedback they receive and make plans for the future.
Process Options
The pathway to a successful 360 survey can take several different possible routes. Below are several options to consider as you plan your 360.
How should the names of the feedback providers be gathered?

We recommend that participants enter the names and email addresses of their feedback providers directly into the website, since this helps distribute the workload across all participants.

Not only that but using the website can increase the chances that email addresses are entered correctly. Participants will also be aware of the number of raters that are required in each category. Alternatively, you could gather the names prior to the survey launch using a spreadsheet or other document. However, this approach is not our recommended option—it requires more work on your side, and there is a greater possibility for incorrect information to come through.
Do you want the lists of feedback providers to be reviewed by someone before the respondents give their feedback? Having the lists reviewed helps to ensure that there is a wide selection of feedback providers for each participant. Also, no one will have "stacked the deck" to solicit feedback only from admirers. There can be either a centralized or distributed approach to this process. For example, an HR business partner might be the one to review all submitted lists in a centralized way. Alternatively, each participant might be asked to have a conversation with their manager to review the list and receive approval.

This distributed approach has the benefit of sharing the workload, and it also helps managers feel more involved in the 360 process.
Post-survey Conversations and Follow-up
Once the survey has finished and participants have received their feedback reports, it is important to continue the feedback conversation. This can be done through a series of "nudges" to help them after the survey closes.
Another important part of the process is to conduct a follow-up survey. This is a lightweight survey, conducted 7-9 months after the first survey. It typically focuses on just a handful of items that the participant has been working on.
The Smooth, Efficient Process
By taking the time to plan out your 360-degree feedback process, you will ensure that your participants and their feedback providers have a smooth experience that will not be too much of a burden on any single individual. The participants will receive feedback that they can act on as they work to become better professionals, and you will be on your way to a better company!